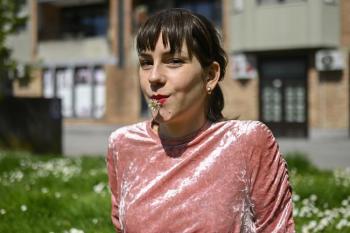 Anja Novak (1991) is a theatre and film actress, performer, poet and singer, currently employed in Slovene Mladinsko Theatre in Ljubljana, Slovenia. In 2015 she received her MA in acting (The Academy for Theatre, Radio, Film and Television (AGRFT) in Ljubljana) with her project I would like to have children, a garden and fifteen rabbits (Imela bi otroke, vrt in petnajst zajcev), in which she explored the fusion of theater, music, and her own poetry. In the same year she was accepted into the ensamble of Mladinsko Theatre, while collaborating with many independent projects in theatre and film outside this institution.
In August 2020, her poetry debut Ranerane was released, which brings together a wide range of different artists and is expanding and upgrading to the virtual platform ranerane.si.
Her poetry and theatre work is full of questions about humam body and about female role in society.
She received several theatre and film awards during her career and in april 2023 she received Slavko Grum Award for the best new Slovenian dramatic text in the theatre festival Week of Slovenian Drama.
She loves rabbits and is not on Facebook.
Dear Iranian women (and men!) who are fighting for the freedom of the woman, you are brave and strong and I admire you all and I wish you to succeed and to become free and in charge of your own lives. This is not a protest; it is a revolution which will change the history. No more discriminatory laws and ignorance! We all deserve equal human rights and peaceful life.